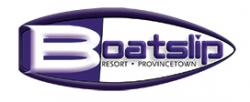 This listing has been provided by:
Boatslip Resort
161 Commercial St.
Provincetown Massachusetts 02657

Description
Every afternoon at the stroke of four, the deck of the Boatslip is transformed into Provincetown's biggest outdoor dance party. Hot bodies, good friends and great dance music make this daily event a "must-do" for seasoned travelers and first-time visitors alike. Resident DJ Maryalice, a Provincetown favorite for over 25 years, "mans" the wheels of steel, blending high energy house and club hits that leave the crowd breathless and begging for more. On Thursdays, DJ Maryalice turns back time as the Boatslip Resort hosts the wildly popular Solid Gold Tea. Dance classics from the 70's, 80's and 90's are the order of the day and judging by this heavily attended weekly event, the second time around really is better than the first! Check out our Events Page for the full 2010 Tea Dance Schedule.