"A Is For Alpine" from Alpine!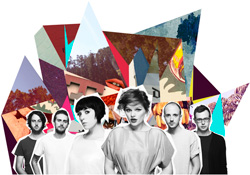 Alpine is Phoebe Baker and Lou James (dual vocals), Christian O'Brien (guitar), Ryan Lamb (bass), Tim Royall (keys) and Phil Tucker (drums). The new album was recorded in Melbourne with producer Dann Hume who helped the band experiment with sounds and textures. Of the record Lamb notes, "We wanted to represent the different sides of our music, so there's some sad moments, some dancey moments, some rocking out and lots of harmonies." No strangers to the benefits of shared ideas and the collaborative process, Alpine's own methods for song writing reflect the strong and respectful working relationship they had with Hume. Baker describes the new album as the band's "innocent and not so innocent explorations through our twenty-something emotions."

A IS FOR ALPINE (Votiv) available May 21st

www.alpineband.com
www.facebook.com/alpineband

Enter to win!

Thanks for visiting EDGE!

Click here to learn about the 365 Gifts Promotion »